Vertical Recruitment offer recruitment solutions for the Consulting Engineering Industry, with a vertical focus on key disciplines including structural engineering jobs.
We are based in Manchester but cover the whole UK market, providing unparalleled expertise and insight to sector-leading organisations. We work with small independent consultancies, SMEs with regional offices throughout the UK and international multi-disciplinary consultancies to drive the industry forwards by finding and placing the best talent in the best roles.
We recruit into structural engineer jobs nationwide, placing talented candidates in roles where they can meet and exceed expectations. Our deep understanding of the sector ensures a high rate of success and delivers rapid results for our clients. If you are seeking employment in the Consulting Engineering Industry, or you are an employer with a position to fill, Vertical Recruitment is the only call you need to make.
Structural Engineering Recruitment Specialists
Our directors have more than 15 years' experience in the UK Property & Engineering recruitment sector and our consultants have considerable expertise in the specific discipline verticals they work within. We bring this depth of knowledge to our clients through exclusive recruitment agreements and our unique Retainer service, which we'll look at in detail below.
Vertical Recruitment's consultants work with industry-leading clients of all sizes, from small independent firms to multinational brands, and recruit into the diverse variety of Structural Engineering roles including permanent, temporary and contract positions.
We can provide specialist recruitment services for the following vacancies at all levels, as well as many more related roles:
Graduate Structural Engineer
Assistant Structural Engineer
Senior Structural Engineer
Principal Structural Engineer
Contractor and interim opportunities
Associate-level appointments
Senior Director vacancies
Vertical Recruitment work with the full gamut of the UK and global construction industry, helping independent consultancies, SMEs and multinational consultancies to fulfil their demand for talented individuals in structural engineering roles. We deliver exciting career opportunities for our candidates to work with truly sector-leading organisations, while delivering exceptional value for the employer.
Our Structural Engineering Consultants supply high-quality personnel who not only deliver value to our clients, but also for the construction sector and the UK's built environment. We have the expertise required to acquire staff for niche roles and for multi-disciplinary consultancies with operations in the UK and abroad.
Vertical Recruitment's clients come in all sizes and whether you need to recruit one employee or several, we make certain to shortlist the very best talent available to fit the role. Our recommendations are guided in part by the Vertical Salary Review, an industry earnings survey we conduct in association with Place North West, which allows us to ensure you get the best value from every candidate.
From newly qualified graduates to boardroom appointments, we work with candidates to understand their long-term career goals, so that the placements we make will flourish for potentially many years to come.
Public Sector

Education
Healthcare
Local Authorities
Ministry of Defence
Social Housing
Private Sector
Commercial/Office
Leisure
Logistics/Warehousing
Residential
Retail
Sports Stadiums
Nuclear / Power / Waste to Energy
Challenges In Structural Engineering & Talent Retention
Structural engineers face significant challenges on a daily basis and this is reflected in the salaries they command. In 2019, the Vertical Salary Review found that an average intermediate consultant structural engineer earned almost £34,000, rising to more than £42,000 in senior roles and £80,000 at director level.
This is a discipline where demand significantly exceeds supply. In 2019 alone, salaries increased by 5% and talented candidates sought benefits such as on-site parking (21%), healthcare (23%), pensions and bonuses (51%) and flexible working options (75%).
For their part, structural engineers must tackle emerging obstacles including:
Tighter profit margins and the need to deliver projects efficiently, both in terms of time and budget.
The need to communicate and collaborate with individuals in related and non-related disciplines.
The continuing evolution of IT systems, design software and management platforms.
Changes to the delivery of higher education for those studying structural engineering at university and entering the discipline for the first time.
At Vertical Recruitment we understand the challenges faced by employers and the salaries, benefits and bonuses candidates expect to receive if they have the knowledge and experience to rise to those challenges. We are dedicated to placing the right people in the right roles to drive forward careers, companies and the sector as a whole.
Source: 2019 Vertical Salary Review
How We Can Help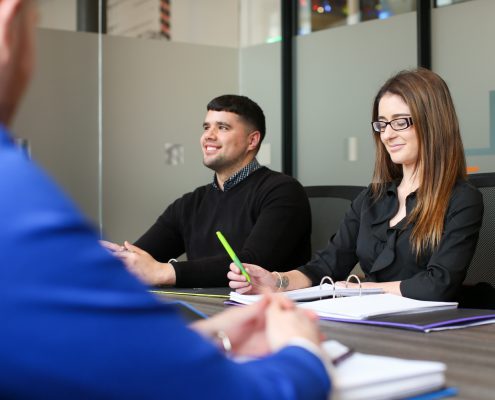 We work closely on an ongoing basis, with individuals from our candidate talent pool and with clients, to ensure we have a deep understanding of what all parties are looking for in each and every structural engineer vacancy.
The level of detail we offer to clients goes beyond what you could gain from an applicant's CV and cover letter. We know our candidates on a personal level, including their career aims and ambitions, past experience and transferable skills, and the kinds of qualities and characteristics that are hard to put on paper.
Structural engineers combine technical knowledge with creativity, working closely with architects, builders and other engineers as part of a team. We shortlist candidates who meet all the varied criteria, including specific knowledge such as experience with industry software packages like Revit Structure and Tekla Structural Designer.
Candidates for more senior roles will have in-depth industry experience including specific activities like:
Building regulations submissions
Preparing reports, designs and drawings.
Making calculations about loads and stresses.
Selecting appropriate construction materials.
Preparing and assessing tender documentation
Using specialist software
Our continuing research on the Vertical Salary Review gives us unbeaten insight into the remuneration applicants will expect – allowing us to recommend a rate of pay that secures the best candidate for the role at the best value for both parties.
Why Choose Vertical Recruitment?
We are built environment specialists with a strong and positive reputation in UK construction sector recruitment. We are known and respected across the north-west, including Greater Manchester where we are based, and we are able to bring our expertise to businesses located across the UK with national, multinational and global operations.
Our services cover the broad spectrum of construction industry jobs, including private sector, public sector, infrastructure and utilities. We place candidates into permanent, temporary and contractor roles and can recruit for non-standard vacancies like flexible working opportunities.
Vertical Recruitment's approach is unique and award-winning. We offer services you cannot find elsewhere, such as our Retainer agreements, which we will look at in more detail below.
We deliver recruitment consultancy with honesty and integrity so that each and every time you have a vacancy to fill, you can rely on our discipline-focused consultants to recommend only the very best individuals for the job.
We Know What Your Business Looks For To Recruit The Best Structural Engineers
Our Experience means we understand the technical and personal qualities our clients look for when recruiting for Structural Engineer roles. When compiling a candidate shortlist, we look for Engineers who are highly skilled, with the right level of experience in all the areas their new role will encompass.
Structural Engineers must have technical expertise, including fluency in industry-standard CAD and BIM software platforms. They must be able to work independently when appropriate, and as part of a team alongside architects and fellow engineers when necessary. We know our candidates well as people and as individuals, so we will always seek to recommend Engineers who will fit well into your company culture.
Exclusive Retained Recruitment Services
We offer a unique Retainer service to clients who want to work exclusively with Vertical Recruitment. Together with our transparent fixed fees, this makes us the ideal option when you need to recruit into middle-senior management roles, including high-level executive and boardroom vacancies in the construction sector.
Our client-centric Retainer service puts your needs as an employer first, and means we are rewarded not for simply filling a vacancy, but for how effectively we work on your behalf. It allows us to put continual effort into recommending candidates, with no additional costs for the employer if our search and selection process takes longer to find the very best person for the role.
We do not charge anything upfront, so you only pay when you receive a shortlist of qualified candidates for the role. If you choose to offer a higher salary in order to secure the applicant you want, we will not increase our fee, allowing you to negotiate the package you want without an additional cost for doing so.
Contact Vertical Recruitment Today
We want to hear from clients and candidates to discuss your recruitment needs, both in the structural engineering discipline and in other areas of expertise across the UK-wide construction sector.
Clients can contact us with initial enquiries about what you need from your next recruitment drive, specific vacancies you need to fill, or to ask us anything about our exclusive retained recruitment service.
We particularly welcome ongoing collaborations with national and multinational businesses that face continuing recruitment needs in structural engineering jobs and other roles.
Candidates can speak to us about your career goals, current levels of demand for your qualifications and experience, or if you would like to know more about any specific skills that are highly sought after by employers and may be worth adding to your CV.
We value all of the candidates in our talent pool and can work with you to achieve your future ambitions. We also offer Job Alerts so if you just want to know when a relevant role is advertised, you can set these up.
Vertical Recruitment are based in the north-west and from our office in Manchester, we cater to construction sector recruitment across Greater Manchester, Liverpool and Merseyside, Lancashire and Cheshire, as well as working with domestic and global construction brands to recruit for structural engineer jobs anywhere in the UK.