Vertical Recruitment are a major standard setter in built environment recruitment solutions in the UK for Building Surveying roles of all disciplines and specialisms.
Based in Manchester and widely acclaimed as a leading player in Property & Construction design, engineering and surveying recruitment across the North West. We have supported some of the country's most well-known construction brands and independent surveying consultancies in finding and matching graduates and experienced Building Surveyors with the specific project needs of our clients.
Over the past 20 years of refining our appreciation of the changing face of Building Surveying Recruitment, we've seen first-hand how a shortage of building surveyor talent has affected the construction industry.
Building Surveyors are a vital component in the business of construction management. With the construction industry worth around £100 billion in the UK, £multi-million projects and contracts are at stake, so it's vital our clients remain unaffected affected by what many perceive as a skills shortage.
For this reason, Vertical Recruitment are trusted time and time again by our clients for Building Surveyor Recruitment. Whether recruiting for permanent, temporary or contract roles, our Building Surveying Consultants can immediately turn to an established talent pool of Building Surveyors of all levels of experience and capabilities. We're immersed in the sector, and appreciate more than most, what our clients need and what the best talent is looking for.
We're known for our effectiveness, expertise, determination and tailored solutions. We'll leave no stone unturned to match the best Building Surveying talent to your exact needs and specific types of project. Whether you operate in the sphere of public or private construction and whether you're looking for MRICS accredited surveyors with a specific PQE criteria or you are recruiting for a graduate BSc Building Surveying role where AutoCAD fluency is a must. We can deliver the candidate you need.
Our Building Surveying Recruitment Consultants have a truly excellent track record of filling temp, contract and permanent Building Surveying roles with reliable, qualified and reference-checked professionals.
Contact us today so we can discuss where you want to take your team and who you need to help get you there.
Building Surveyor Recruitment Specialists
When recruiting for Building Surveyor roles, as with any of the placements we work on, we want to deliver the maximum return on investment in human capital for our clients.
Our time-served experience in Building Surveying Recruitment combined with an unparalleled insight into the trends affecting the built-environment landscape have helped our strong reputation. We regularly work with Building Surveying consultancies and leading players in construction & refurbishment sectors.
We are award-winning in what we do, voted the region's 'Best Construction Recruitment Company' in The Grafters Awards as recently as 2019.
Each year we are trusted by, and partner with 'Place North West' to produce our Built-Environment salary survey. Our survey allows us to engage directly with the Building Surveying community, giving us and our clients unique benefits and a competitive edge:
Up to date understanding of what Building Surveyors are looking for from their careers and next roles,
We understand what they perceive as threats to their industry,
Our Building Surveyor talent pool remains topped up, fresh and actively engaged with us.The unique insights we possess empower our clients to make the right decisions and choices when engaged with candidates in final stage role negotiations. We provide insights that help our clients package jobs and benefits offers in ways that excite the right candidate and press the right buttons.
Our consultants possess the expertise to appraise current market conditions as well as market-wide remuneration packages, enabling us to be pro-active in our approach to assisting your recruitment process.  We ensure our clients are perfectly positioned to secure the best talent in the marketplace.
We know it's crucial that you get the right person. Our bespoke recruitment solutions and techniques mean we can unearth and attract the experience and technical knowledge you need from your ideal Building Surveying candidate. We regularly help independents right through to global corporates with Building Surveyor recruitment service for disciplines encompassing all types of roles below and more:
Graduate Building Surveyor
Chartered Building Surveyor
Senior Building Surveyor
Associate Building Surveyor
Director Building Surveyor
Building Control
Vertical Recruitment have developed leading recruitment solutions for Building Surveyor roles, and we engage directly with all types of business with building surveying needs.
For over 20 years we have worked hand in hand with global construction companies, large UK based contractors and niche independent surveying consultancies, and with all clients we work closely with senior management to introduce you to a pipeline of building surveyor talent – perfectly matched to your technical requirements, culture, and your project needs.
We have a great deal of expertise in supporting clients with Building Surveyor Recruitment services where there is a specific criteria for PQE on specific types of project spanning:
Public Sector

Education
Healthcare
Local Authorities
Ministry of Defence
Social Housing
Private Sector
Commercial/Office
Leisure
Logistics/Warehousing
Residential
Retail
Sports Stadiums
Satisfying a Building Surveyor role with the best talent in the market is no small task. Building Surveyors with are in short supply and there is, as always, high demand.
Wider pressures are affecting built-environment sectors at present, with feelings of insecurity affecting both companies and candidates (Covid, Brexit, etc). Many qualified professionals are inclined to value the security of a current position as opposed to looking to the horizon. This is where the experts at Vertical Recruitment come in to their own and add real value to the process of your finding and engaging that talent.
We will apply all our experience and know-how to ensuring your objectives are best met. We'll help with:
Identifying the perfect hire
Developing a job description that attracts the finest talent
Pre-screening to ensure candidates selected for interviews have the experience and technical skills you need
We'll draw on our talent pipeline to ensure active and passive Building surveyors are primed to give your role the consideration it deserves
We'll think carefully about your culture and look for personal qualities and soft skills that match your company
We match the needs of your role with the aspirations of our candidates.
We go far beyond recruitment-norms of evaluating candidates based solely on the quality of their CV.
Vertical Recruitment are in the business of building relationships with our clients and with our candidate talent-pool. We apply a tailored approach to work closely with all parties to ensure we're in position to match the best talent for each role, thus obtaining the maximum value for our clients with each placement we facilitate.
We strive to get to know our clients on a deep level, well beyond face value. We will be determined in our efforts to understand exactly what you need the way we understand what our candidates are looking for. This is the only way we can be confident in assuring you or an unrivalled recruitment solution.
Our Exclusive Retained Recruitment Service
The unique retained recruitment service offered by Vertical Recruitment means you can choose to work with us exclusively appointing candidates for your consideration into present and future vacancies.
With our retained service, our efforts are simply ongoing until you secure the perfect candidate. No matter how much time this means we may put in, the costs to you will remain unchanged at the fixed level agreed at the outset of our service to you.
Unlike our peers, if you find yourselves having to increase the salary offer at the final stages to secure the best Building Surveyor for your role, our fees remain exactly where they were set and agreed at the start.
Our main competitors base their commission on the final salary package agreed between the client and the candidate, this is often higher than original starting salary for the role. This means you could be paying out a lot more in fees than you had originally bargained for, just to secure the services of that best-fit Surveyor.
With Vertical Recruitment, you will get a best-in-class Building Surveyor Recruitment service that is cost-effective with a fair and just payment structure.  Our fees are broken up into equal parts, with invoicing milestones agreed upfront with you at the start of our process. Uniquely, we charge nothing upfront at all, with your first invoice only being raised when we have submitted our high-calibre shortlist.
BUILDING SURVEYOR CANDIDATE ATTRACTION & TALENT RETENTION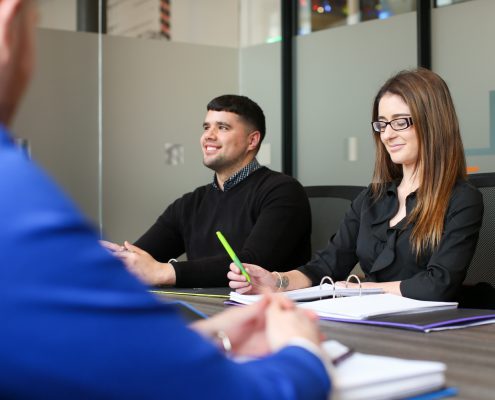 The UK has a strong reputation across the global construction industry and a competitive edge when evaluating talent in construction design and engineering disciplines. The UK Government has set ambitious targets for the UK to continue as a trailblazer in the global construction market, forecasted to grow by some 70% by 2025.
Behind the headline figures though, those working on the inside are deeply aware of the distinct and ongoing challenges surrounding the availability of skills amongst built-environment and building surveyor specialisms.  Also, when looking to the next generation, further concerns grow.
A recent trends & patterns study across UK Universities demonstrates the number of students studying Construction design & Surveying degree courses has declined considerably since the recession of 2008/9.  Student numbers in these fields of study have dropped by appox.19% from pre-recession levels. This makes Construction design and surveying the 4th worst-performing subject area.
The financial crisis of 08/09 – led to a lack of investment in the construction sector, with subsequent slow-down in rates of construction projects, many seasoned professionals were driven to leave the industry, never to return. It appears that people leaving these professions and retirees combined with fewer graduates hit the industry hard.
This environment makes it ever more important for your role and package to stand out from the crowd when looking to attract, engage and secure top-talent. It follows too, that it is equally critical for businesses to work hard to retain the best professionals in permanent roles.
This challenging landscape makes it crucial to rely on the support and expertise of a seasoned Building Surveyor Recruitment Agency when looking to develop your team, or to replace much needed experienced team members should they move on.
Vertical Recruitment's unique insight and appreciation of the hopes and aspirations of Building Surveyors gleaned from our Annual 'Place North West' salary review, gives us and our clients a unique and telling understanding of what Building Surveyors want from their next role.
Some of the key takeaways from our last Building Surveyor study shows that:
71% of Surveyors are attracted to a higher salary package. With the average salary across Building Surveyors of all career stages being £46,000. Flexibility over hours of work and transport provision are next on the priority list for surveyors with 61% placing value on a car allowance, while 59% look for flexible working arrangements.
Building Surveying is certainly a skilled construction discipline where demand for the best talent outweighs supply at present. With salaries, on average seeing an annual uplift of approximately 10%. It is worth noting though the ideal package for a Building Surveyor is not all about the salary. Significantly 20% of all Building Surveyor respondents suggested they would be enticed to move on to an employer with a 'better culture'
When questioned on what Surveyors perceive as the main threats facing their professions and industry sector, a skills shortage again weighed in with 20% of the vote, but even this concern was surpassed by fears surrounding 'land supply' (23%) and 'economic uncertainty' (34%)
Recruiting Building Surveyors at present is a high-stakes process for a highly-pressurised professional role. The main issues affecting Building Surveyor confidence, job satisfaction and skills availability being: economic uncertainty, an ageing workforce, attraction of young people into the professions, organisations failing to care for their current workforce, and perhaps bridging the gender pay, it's crucial to look for the best support with attracting the top talent.
At Vertical Recruitment we understand the what the best candidates are looking for, so we're in the best position to help employers overcome the challenges they face with attracting and recruiting the right people.

Source: 2019 Vertical Salary Review
Contact Vertical Recruitment Today
Covering the entire range of Building Surveying skill sets and roles, our consultants are fully versed and immersed in your sector and have developed a breadth of knowledge that is unparalleled. They speak your language, understand your goals, and will appreciate your exact requirements.
We have the networks and resources to match your role with the best potential candidates who want to work on the projects in your portfolio. Contact us in confidence for a no-obligation discussion on what you need to make your recruitment drive a complete success.
From our offices in central Manchester, our team has developed into the North West's leading Building Surveying Recruitment Agency of choice when looking for professionals for temp and permanent roles.
If you are starting your search for the best talent in Building Surveyor disciplines, we can expertly support your hunt.  We work with constructions companies and Building Survey consultancies across Greater Manchester, Liverpool, Lancashire and throughout the UK. Call our team today to find out more about how we can help your team plans turn into reality.